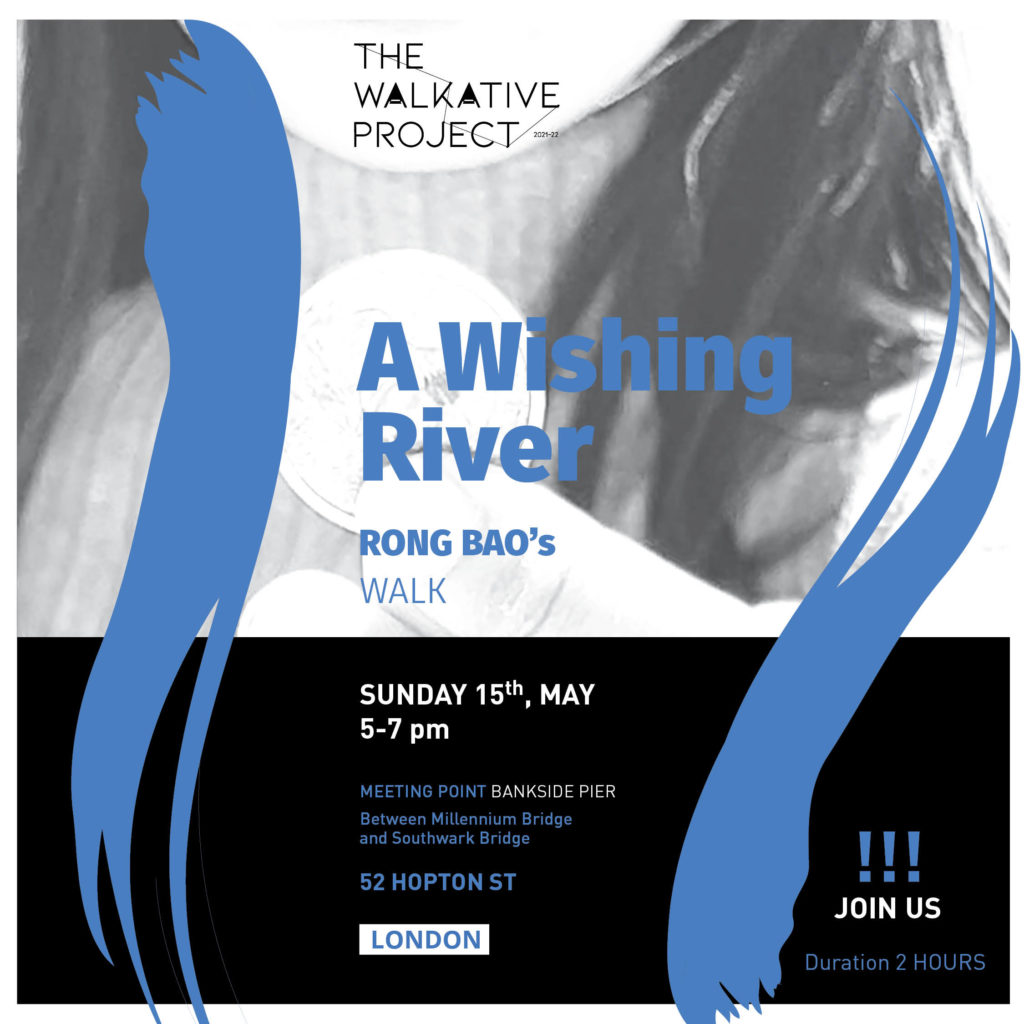 Mother Thames, the river that gave birth to London, has witnessed the city's long history through many periods of turbulence and calm, and in its waters, each grain of sand or soil, shattered crystal, fossil fragment of animal bone attests to the city's development through time.
Hoping to capture something of this history, on Sunday 15th May, The Walkative Society invites you to a perambulation along the Thames Embankment led by the artist Rong Bao. The walk will combine found-object sculpture making with elements of mudlarking. We will work together to create a "One Minute Sculpture" using items we find at the river. Rong Bao will prepare some colorful foam clay as filler for the one-minute sculpture, and you are welcome to bring items that are meaningful to you.
Furthermore, you will be invited to participate in Rong's ongoing 'wishing coin' project involving three countries, four cities, and four important and famous water areas. Rong Bao will bring the coins that she took from Turkey, Istanbul, and Ephesus. Please wear comfortable clothing and shoes that can get dirty, as well as have plastic bags and gloves available.
Time of meeting: 5pm
Place of meeting: Bankside Pier, Between Millennium Bridge and Southwark Bridge, Address: 52 Hopton St, London SE1 9JH
Duration of walk: 2 hours
About Artist
Instagram: @rongbaobaobao
Rong Bao (b.1997, China) is currently based in London completing her MA in Sculpture at The Royal College of Art. She used to study Public Sculpture at the China Academy of Art and received her BFA from the School of the Art Institute of Chicago after being awarded the Distinguished Scholarship. Her works are using different materials to visualize the rebellion against nowadays micro-power by reversing the original function of everyday objects and putting them into a different context situation. By exaggerating the feeling of defamiliarization, she wants to encourage audiences to discover and experience vulnerability, but also to be tricked, and further question the convention of this world. Rong's work has been shown in multiple exhibitions all around the world, including 'EXPO CHICAGO 2022" at Navy Pier's Festival Hall Chicago, US (2022)', 'We Won't Stop Working' at SET Woolwich Gallery, London (2022),'Art Nova 100 10th Anniversary Exhibition' at Guardian Art Center, Beijing (2020), 'Art Bash 2019' at Site Gallery, Chicago (2019), etc.